KOREAN KUKKIWON BLACK BELT CERTIFICATION FEES and HOW-TO APPLY.
NEW FEES FOR KUKKIWON DAN RANK AS OF JANUARY, 2016
This page is for all those who are ranked below 5th Dan with the KukKiWon and for those who have a

USA

mailing address!

If you live outside the continental border of the USA

but have a mailing address or proof of USA residency, then we can help you

. (Such as the US Military)
How can I check if my KukKiWon has been applied for and who can I contact in the U.S.A.?
Write to the I. S. A. at the address below:
I.S.A. MARTIAL ARTS
2009 Butterfly Lake Drive,
Florence, SC 29505

The U.S.A. only
Tel: 1-843-676-5280
Email: Dr. Petrotta
=
Check your KUKKIWON Dan/Poom HERE!
KUKKIWON FRAUDULENT CERTIFICATES

TOTAL KUKKIWON DAN FEES WITH I.S.A. FEE

| | | |
| --- | --- | --- |
| Poom/Dan | Minimum Time Required for Promotion | Current Registration Fee |
| 1st Poom / Dan | no limitation | US$ 155 |
| 1st to 2nd Poom / Dan | 1 year | US$ 180 |
| 2nd to 3rd Poom / Dan | 2 years | US$ 205 |
| 3rd to 4th Poom / Dan | 3 years | US$ 300 |
| 4th to 5th Dan | 4 years | US$ 400 |
Write to the KukKiWon at the address below:
Kukkiwon International Business Team
32, Teheran-ro 7gil, Gangnam-gu,
Seoul, Korea 06130

MS. KIM, SUNG SHIN
Business Office KMS
Pan-America & Europe Division
International Business Team / KUKKIWON
Tel: 82-2-3469-0153 / Fax: 82-2-3469-0159
Web-site: www.kukkiwon.or.kr
My best contact in the Kukkiwon for the U.S.A.
Tel: 82-2-3469-0153

Email: imsungshin-AT-kukkiwon.or.kr

Since April 2006 we here at the I. S. A., have helped MANY individuals receive their
Korean KukKiWon Dan Rank at reduced fee rates.
Here at the I. S. A. MARTIAL ARTS KUKKIWON DIVISION,
we are using the ONLINE PAYMENT for individual Dan ranks.
This means that we can get your Dan rank certified and sent to you
in about two-three (2-3) months!
Normally, it takes between 2-3 months for the
students to receive their KukKiWon Dan Certification from Korea
by going through the I. S. A. MARTIAL ARTS.
To submit yourself or your students for testing in front of Dr.Petrotta,
please contact the I. S. A. MARTIAL ARTS headquarters.
This is where you can find how and where to test for KukKiWon Dan rank.
Since late in 2013 and earlier in January 2014, the Kukkiwon has undergone some internal administrative changes. The certificate you receive in all of 2014-18 will be signed by KUKKIWON.
Until the person who is chosen to be the Kukkiwon President, is assigned his duties, then no certain individual will sign the certificates and ID cards.
IF you are a 1st, 2nd, 3rd or 4th Dan in KukKiWon TAEKWONDO, and are running a Dojang for yourself or someone else, or you want to open a Dojang but do not know how to get yourself or your student's KukKiWon Dan Certification, then this page is for you. The I. S. A. is here to help

YOU

get the coveted KUKKIWON Dan certification and be able to run your own school as you want too.
---
---
We hold Sungja-Do and Taekwondo rank promotional testing periodically.
Contact the I. S. A. MARTIAL ARTS for more information.
Contact information:
Telephone:
1-843-676-5280 (CELL)
E-mail: isahdq-at-gmail.com
Physical Mailing address:
Dr. George Petrotta
2009 Butterfly Lake Drive
Florence, SC 29505, U.S.A.
Make all BUSINESS/PERSONAL/BANK checks payable to ISA MARTIAL ARTS
KUKKIWON I. S. A. TESTIMONIALS
Search Engine Submission - AddMe
---
I. S. A. MARTIAL ARTS Web Site is
Designed and Maintained by
I.S.A. Consultation Group!
© 1997-2019
All rights reserved.
Top of Page

Search Engine Submission - AddMe
Private Training for Self-Defense by I.S.A. Martial Arts!
Dr. Petrotta and the I.S.A. give you the REALITY-COMBAT training you need for street defense. Call 1 (843) 676-5280 NOW!
This page © 2006-2019
Update on MARCH 15, 2019 @ 0820 EDT
by I. S. A. Consultation Group
Search Engine Optimization and SEO Tools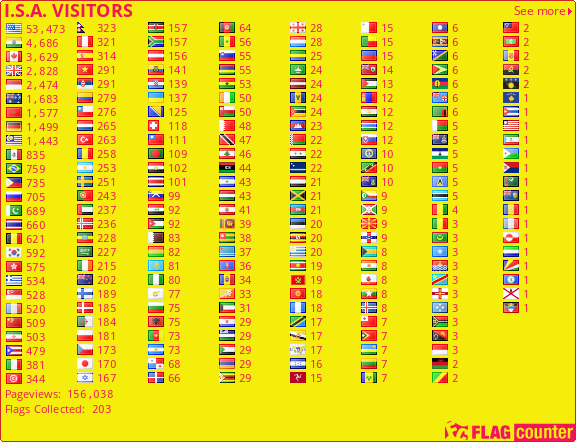 Search Engine Submission - AddMe